If there isn't a war on, the economy is the only story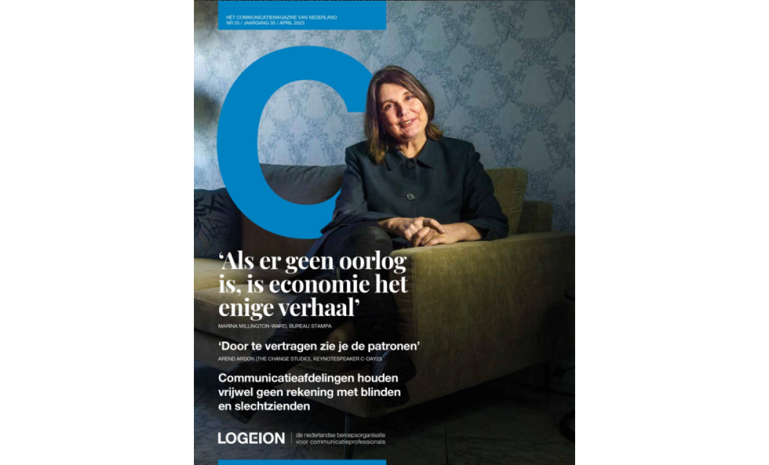 Stampa's Marina Millington-Ward features in an interview with trade magazine C of Logeion, the Dutch professional association for communication professionals. With Logeion's permission, we've published the cover story below. To see the full feature and pictures click here.
Author: Wim Datema
Photography: Eran Oppenheimer
'If there isn't a war on, the economy is the only story'
French IT company Sopra Steria is acquiring Dutch Ordina for €518 million. The Pharming shares made a 33 per cent jump in price as a second drug from the Leiden-based biotech company has been allowed to enter the US market. The European Commission comes to the rescue of European consumers with an attack on greenwashing.
These are just a few headlines from Het Financieele Dagblad in March 2023. They touch on the profession of financial communication. A world in which Marina Millington-Ward feels like a fish in water. We talk to her about what is still uncharted territory for many of her colleagues.
Millington-Ward is co-founder and co-owner of agency Stampa, specialising in financial and corporate communications and is based in Amsterdam, London and Brussels. From the beginning, her career has been all about financial communications. With a degree in Law – supplemented by a top degree in Economics – in her pocket, she managed to fulfil a dream in 1995 and started working as a financial reporter at Bloomberg. The company is renowned worldwide for its economic reporting and information. After that, Millington-Ward's roles included head of Investor Relations at Buhrmann, financial analyst at Deutsche Bank and journalist/economics coordinator for NOS news broadcast.
Being where the action is
Asked why she is so drawn to financial communications, Millington-Ward quotes Mike Bloomberg: 'If there is no war, economics is the only story'. It may sound a little overblown she says, but, "I've seen at NOS that it's really true. And I like to be where the action is, so with my economics and journalism background and analytical mindset, a career in financial communications makes pretty good sense. Follow the numbers if you really want to know how things are. That's what I do." Returning briefly to the start of her career, Millington-Ward emphasises how important a good mentor has been for her. In her case, that was James Ludden of Bloomberg London. "At Bloomberg, I was thrown to the wolves. But James knew a lot about complicated financial topics, and I was able to spend a lot of time with him, which was golden."
Naming pain points
With Stampa, Millington-Ward helps companies communicate their financial-economic development or developments with financial impact. The four founders were driven by their experience in financial journalism when they started the agency 15 years ago. "We saw that financial communication could be better. Less focus on output, such as press releases and presentations, but more on the process leading up to it. The biggest added value you can offer as a consultant in this profession is seeing and naming pain points earlier than others. To do so, you have to dare to ask the right questions." Incidentally, Millington-Ward and her colleagues got in at the right time. It was November 2008, Lehman Brothers had just gone bankrupt, and the credit crunch broke out in full force. "It was a bizarre time, when whole departments at clients flew out. Those days really don't need to come back for me."
"Too often people in senior management don't get to hear the ordinary concerns any more"

Marina Millington-Ward – Co-founder & Director, Stampa
Amsterdam, London and Brussels
Few agencies in the Netherlands have a focus on financial communications. Stampa calls itself the leading independent agency in the Netherlands. Other agencies usually fall under a larger international group. They are often London-based firms, which also have an agency here. Stampa itself started with three partners in Amsterdam and one partner in the financial heart of London. A presence in Brussels was later added, due to the increasing importance of the European Union. Its clients are mainly large international companies, whose headquarters are also often located outside the Netherlands. "That does require extra attention," says Millington-Ward. "When we work for the Benelux country manager, for example, we also want to see the global strategy. If the messaging for the Benelux deviates from that, then we will enter into a discussion about it."
Sustainable, long-term relationships
For Millington-Ward, a sustainable, long-term relationship with the client is an important basis for doing good work. "As a consultant at strategic level, you must have a good understanding of what a company is about. It's a big advantage if you have been around for a while and have a high level of involvement. We secure this through an approach in which we work together intensively. We go through an annual cycle with each client. It starts with a kick-off, in which the communication strategy for the year is defined. After that, we sit down with the client's team every fortnight or month. We then also prepare the annual and semi-annual presentations of the figures."
Investor relations
Financial communication is sometimes mentioned in the same breath as investor relations. Yet they are really two different disciplines, she explains. "Investor relations focuses purely on investor relations, and often falls under the chief financial officer (CFO). Financial communication is broader and touches all stakeholders of a company. Investor relations also does involve messaging, but in numbers. Still, I don't see how you can separate one from the other. So in practice, you have to make sure there is good cooperation so that all communication is coherent."
Journalistic mindset is important
With nearly three decades of experience in the profession, Millington-Ward must have a good idea of what makes someone a good financial communications consultant. Can she outline a profile?
"You don't have to come from journalism, but a journalistic mindset is important. Being independent and daring to ask tough questions of the CEO. There's an English expression for that: 'speaking truth to power'. Too often, people in senior management don't get to hear the ordinary concerns any more. But, to be able to ask the right questions, you need to be analytically strong. And also really financially literate. I sometimes do more with spreadsheets than with words. You have to understand why an analyst has done a certain calculation. In our profession, therefore, taking a financial training course is quite normal. We also develop our own training courses at Stampa, such as communicating on financial markets."
ESG and greenwashing misery
Millington-Ward speaks passionately about her field and the developments she sees. Such as the increasing use of social media, and with it the visualisation of messages. But the development that is closest to her heart is the increasing weight that ESG is gaining. "ESG is increasingly becoming the standard by which companies are judged. You can see it in large asset managers who no longer invest in companies that perform poorly on ESG. And the EU is also becoming more stringent, with the recent crackdown on greenwashing. Personally, I welcome the rise of ESG, but it is also professionally difficult. Companies have to be extremely careful not to get caught up in greenwashing misery, with even the risk of lawsuits. The facts and figures must therefore be right. This means that ESG is now part of the 'hard' side of the business and, based on the principle of integrated reporting, is also reflected in the annual reports. This also makes it logical for us, as specialists in financial communication, to deal with this. It requires the same attitude and approach."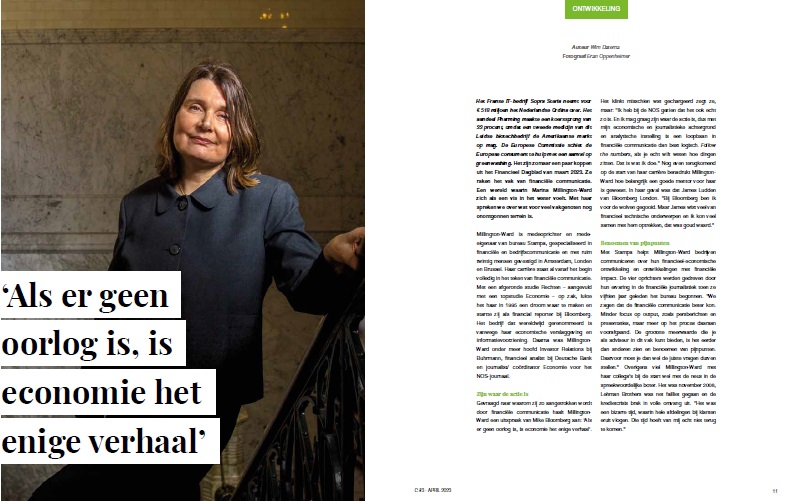 Want to know how adopting a journalistic mindset can help your communication efforts? Read our previous post Thinking like a journalist can help us all communicate better.